Many of us know about natural flea management methods, but oftentimes we're forced to go for the hard stuff during a flea or tick invasion. Here at Tripawds, we've never found a flea product that was both non-toxic and strong enough to kill fleas immediately . . . until now.
Southwestern Cedar Oil is an all natural solution that kills parasites on the spot. But it's so harmless to mammals that even kids can use it as a repellent!
Cedar oil has been used as a parasite preventative for hundreds of years.
Today, the Southwestern Cedar Oil company has bottled this remedy and turned it into the best all-natural flea kill solution we've seen.
The Flea Product Virgin Puts Cedar Oil to the Test
We wanted to put cedar oil to the test, by trying it on Tripawds Spokesdog Wyatt Ray. He was the perfect test subject, as he's never been exposed to any flea prevention products under our watch (he joined our family last fall in Colorado, when fleas were dormant).
This winter Wyatt went to Texas, where fleas grow big and mean. It was a great place to test an organic flea product, so we requested a trial bottle from Southwestern, which they gladly supplied to us for review.
Southwestern Cedar Oil: Our Findings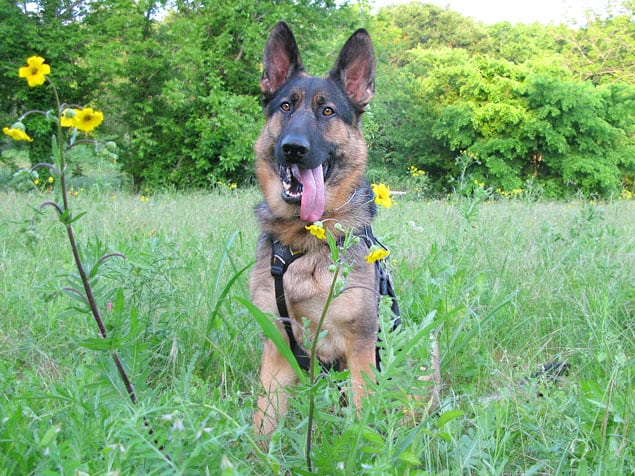 We applied the cedar oil and waited for the flea circus to come to town. The weather got hotter, and we waited some more.
The tall grass made him itchier than usual, but not a single flea survived on him while we were in Texas. Rene is susceptible to flea bites and she would know if any fleas hitched a ride on him into our RV. She can say with confidence that the cedar oil kept them away.
It feels great to find an effective, non-toxic flea product for Wyatt (see what others think by visiting the Southwestern Cedar Oil's Amazon store).
The only drawback is that in order to maintain its effectiveness, Southwestern Cedar Oil must be applied daily for active, outdoorsy dogs. For less active indoor dogs, every two to three days is acceptable, according to the manufacturer.
But this seems like a very small price to pay for all-natural flea prevention, and we found it easy to make its application a part of our morning routine. For more thorough flea control, you can purchase foggers, lawn applicators and apply it directly to furniture, carpets and floors.
Tripawds Endorses Southwestern Cedar Oil

While we only tested the product in Texas, we can't say for certain how it works in more heavily infested areas. But the effectiveness of Southwestern's product has been certified by Iowa State University and also endorsed by the U.S. Department of Agriculture. More information can be found on the Southwestern Cedar Oil website, which is challenging to navigate but full of good information once you dig around.
Watch the YouTube video that tells the history of cedar oil and explains how Southwestern Cedar Oil products work:
[youtube]http://www.youtube.com/watch?v=_WHXX7vaMy8[/youtube]
Always remember, no flea product is fool-proof. Successful pest management always starts with a healthy diet, pest-prevention methods at home, and regular grooming. For more tips about managing pests, read this article: Eliminate Fleas without Poisons: Integrated Pest Management to effectively control fleas."