Do you worry about wear and tear on your Tripawd's hips and joints? Fear not, Wyatt the Tripawd Wonder Dog is here to save the day!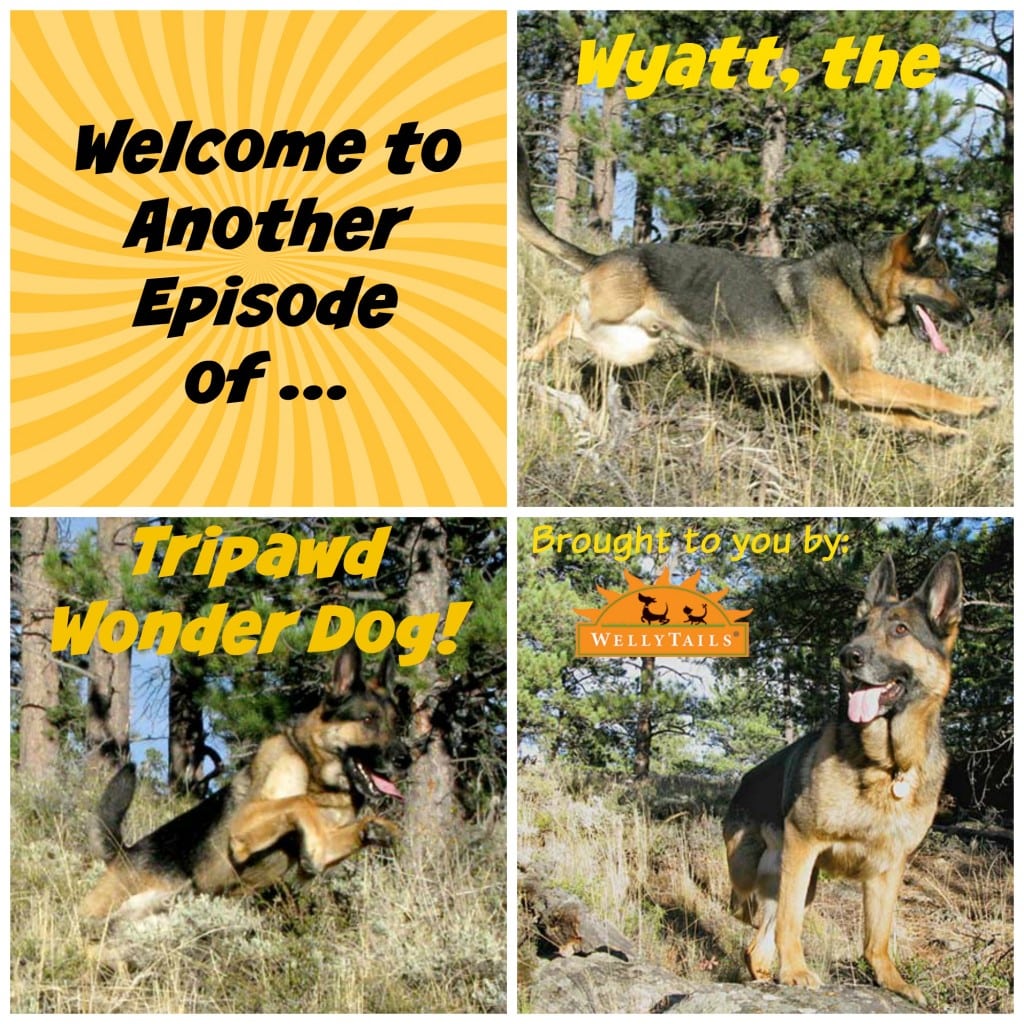 Even with one less leg, you can see that Wyatt takes exercise as seriously as any other five year old German Shepherd. Not a day goes by when he's doesn't try to fly off a rocky perch, zoom straight uphill or chase a feisty squirrel. We flinch whenever he throws himself into these crazy adventures, since he has an achy hip and no legs to spare. Like every Tripawd pawrent, we want him to enjoy being a dog for as long as possible without hurting himself.
That's why when we had the chance to give WellyTails Cartilage, Hip and Joint savory gravy supplement mix another go-around in Wyatt's diet, we jumped at the chance.
This all natural powder gravy mix is a no-brainer way to get premium mobility support supplements like gluosamine, chondroitin and MSM into Wyatt's system without shoving pills down his throat or fattening him up with glucosamine-infused treats.
WellyTails produces an entire line of premium supplements at a good price, each one formulated to help specific health conditions. In every scoop of WellyTails Cartilage, Hip and Joint you'll find:
Glucoasamine HCL
Chondroitin sulphate
MSM (Methelsulfonylmethane)
Green lipped mussel powder
Hyaluronic acid HMW
Tart red cherry powder
Omega-3 and 6
Don't let these ingredients confuse you. Simply  put, this is how they keep dogs like Wyatt going strong:
Improves joint mobility
Minimizes painful joint inflammation
Supports strong healthy joint tissues, cartilage, hips and joints
Contains all 3 omega-3s + GLA omega-6 fatty acids
Supports brain and eye health
Promotes heart health
Re-energizes aging senior dogs
With just two scoops in each meal, we're making sure that Wyatt gets what he needs to continue doing what he loves most without getting hurt or sore. The package it comes in is huge, he still has quite a bit left over for next month.
For about 30 days we added WellyTails Cartilage, Hip and Joint to Wyatt's regular diet, as a savory gravy topper for WellyTails new DIY grain-free dog food, Veggie & Friut + Chia Canine Blend.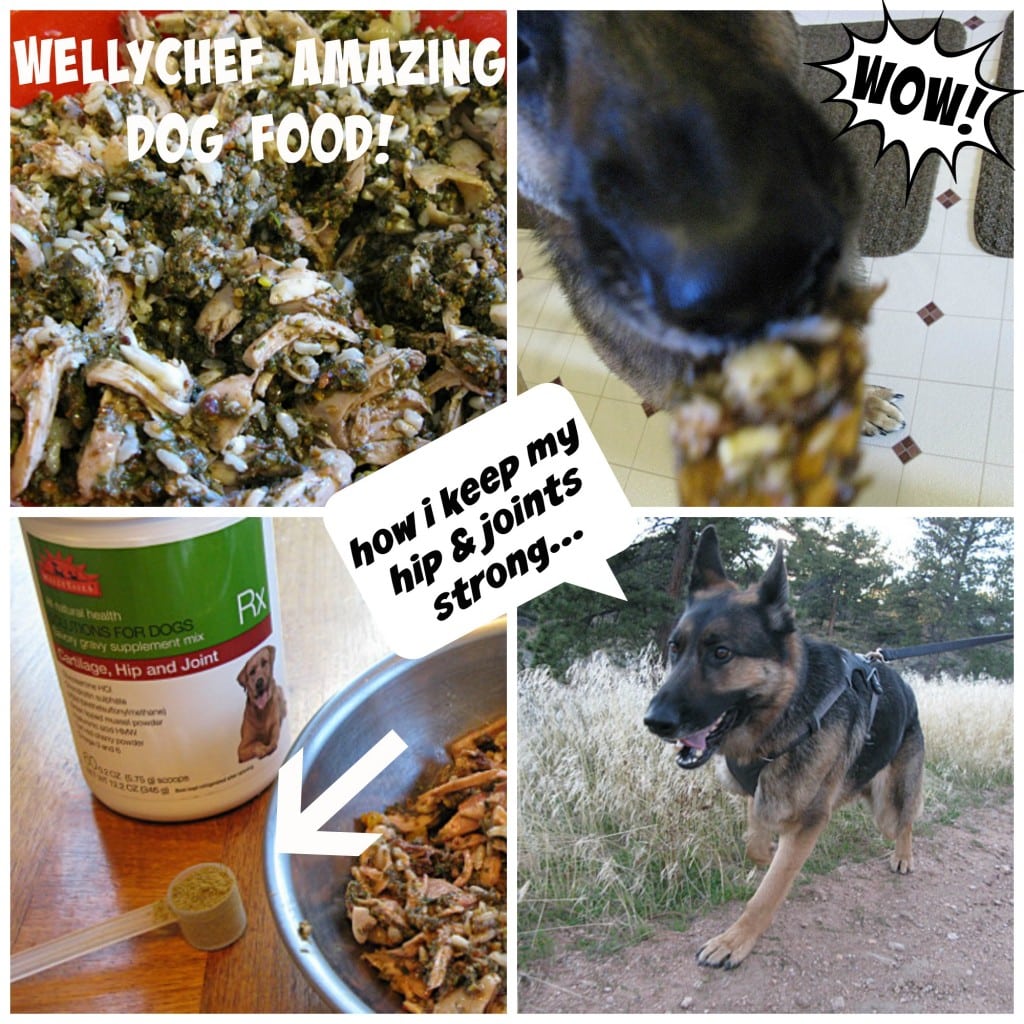 This make-at-home dog food base mix can turn an ordinary package of your own fresh chicken, duck, farm-raised Atlantic salmon or tilapia fish into an exceptional homemade meal for dogs that meets/exceds AAFCO dog food standards. All you do is add:
Your choice of meat
Sunflower or vegetable oil
Fresh fish oil
Water
You can include optional ingredients like a hard boiled egg and one carbohydrate source like cooked quinoa, brown rice, oatmeal, barley, white potato or pasta. Since we had a lot of brown rice around the house, we added this carb to Wyatt's food because we thought his extra activity up here in the mountains was making him a little too thin.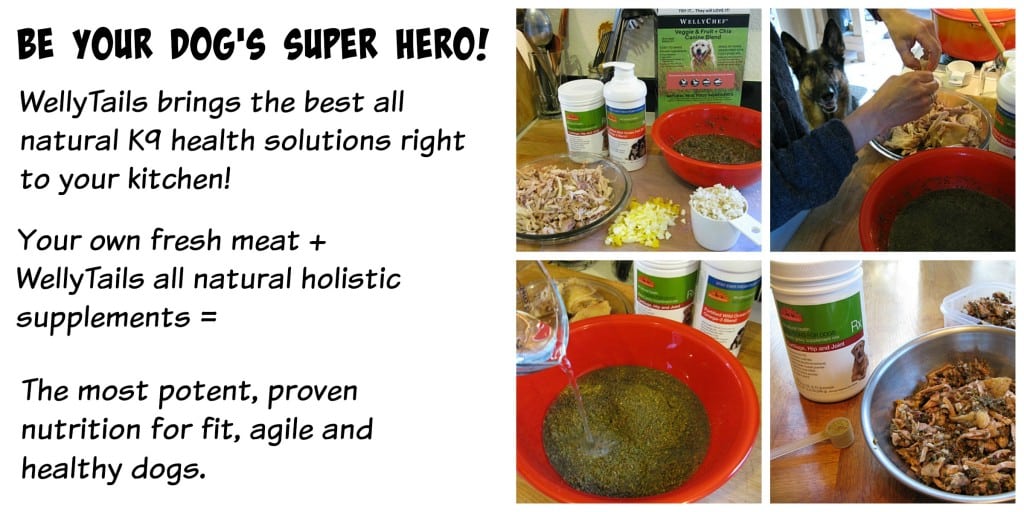 WellyTails also sent us a bottle of their Wild Ocean Fish Oil Omega-3 Blend to use in the food, which was a great addition. We were especially impressed in the bottle it came in, which sounds crazy but here's why: the bottle has a "stay ever fresh pump system" that's used in human medicine for treating burn victims. The special bottle prevents oxygen (air) from contaminating the fish oil and turning it into a free radicals cesspool.
After one month of Wyatt getting the WellyTails Cartilage, Hip and Joint supplement into his system, along with dining like a king on the Veggie & Friut + Chia Canine Blend, we're certain that the premium ingredients are making a difference in his ability to keep up with the demands of being a mountain dog.
Thanks to WellyTails, every day is another chance to be a three-legged K9 Superhero!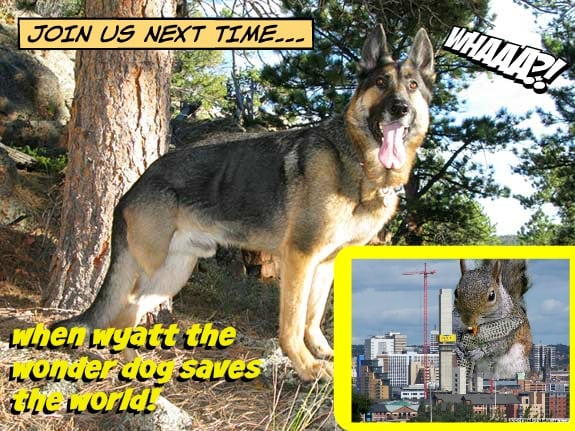 This post is sponsored by WellyTails and the Pet Blogger Network. We are being compensated for helping spread the word about WellyTails WellyTails Cartilage, Hip and Joint supplement and WellyChef Veggie & Friut + Chia Canine Blend, but Tripawds only shares information we feel is relevant to our readers. WellyTails is not responsible for the content of this article.