Today's pawesome guest blog post was generously provided by Bentley's Mom, Kate. If you would like to share your Tripawd's nutrition plan, contact us today!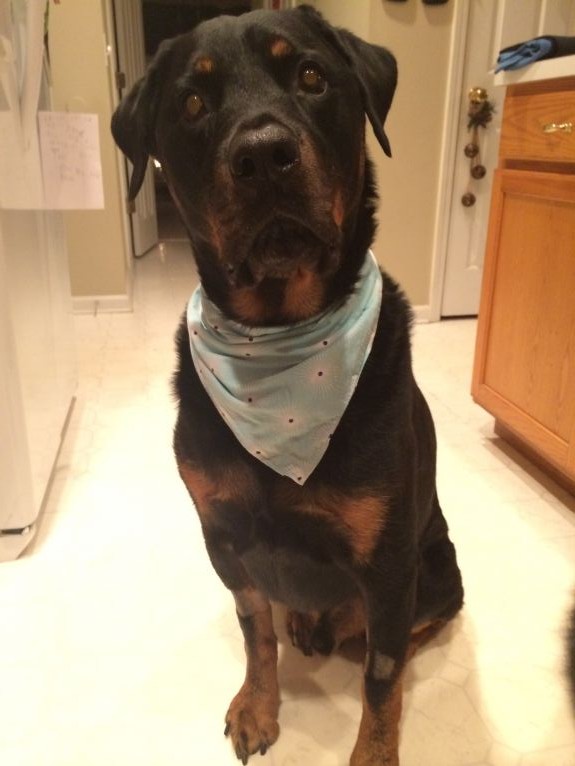 My 7 year old, 110lb Rottweiler Bentley, was diagnosed with Osteosarcoma in his front left leg on 11/27/2013. It was by far the worst day of my life thus far. CANCER. That word in itself, can give chills to most people. It ruins lives. It stops a mother in her tracks. Human child or not, this boy is my world. To say my world was turned inside out, and the wind knocked completely out of my sails in an understatement! I cried for 4 days straight, but then I woke one day with a new fight in my heart.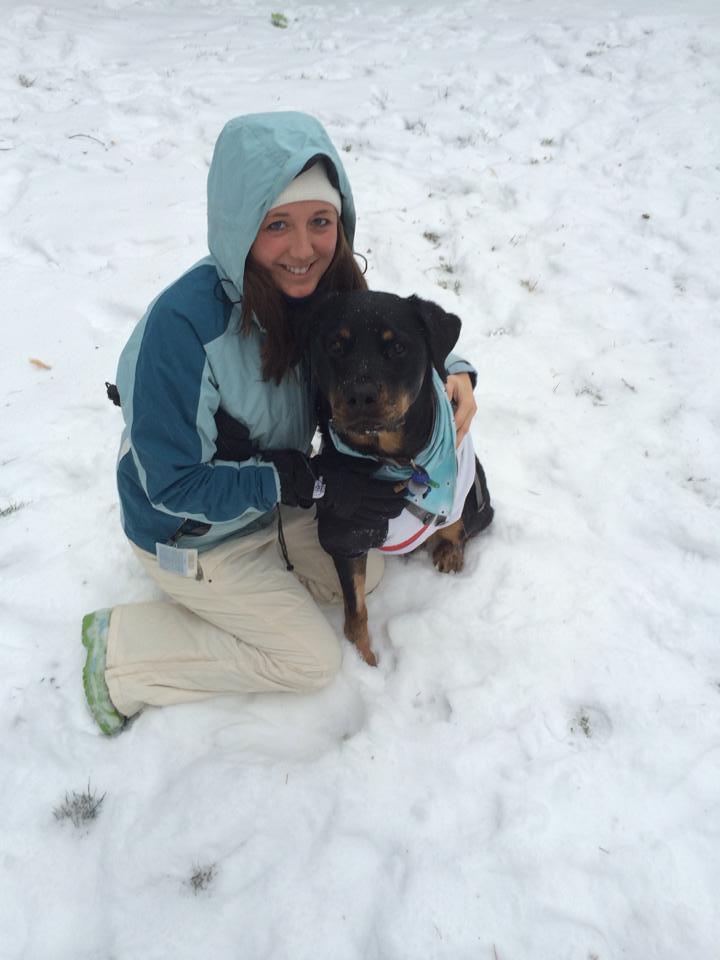 We have vowed to fight the good fight, and will do everything in our power to beat this monster – until the day that my sweet boy says it's time to let go. We have heard so many positive story, and although we know that statically this disease in 95% fatal in the first year…we are determined that we can be part of that 5%. Here is a little bit of our history:
11.27.13: OS Diagnosis
11.28.2013: Began home cooking the 'anti-cancer' diet and supplements, he loves it!!
12.3.2013: Visit to Oncologist, elected to put him under anesthesia and do a complete CT scan to assess the progression of cancer.
12.4.2013: Results from scans back – no spread of cancer that we can see wahoo!!! But scan did show tiny nodule on his spleen, took him back in to be sedated and biopsy nodule.
12.5.2013: Result of biopsy showed that is was just a fatty tumor – yayy!!!
12.6.2013: Amputation of front left leg: Bentley is now a member of the badass tripawd nation!!
12.20.2013: Bentley's first round of Carboplatin Chemotherapy administered at half of the full dosage.
1.15.2014: Bentley's blood work all looks perfect, second round of Carboplatin Chemotherapy administered at the full dosage.
2.6.2014: Bentley's blood work all looks perfect again, third round of Carboplatin Chemotherapy administered
I have always felt that the biggest part of winning any battle, is mental and emotional health! Since the first week Bentley's was diagnosed, I have not shed a single tear. We have vowed that as long as Bentley is happy and loving life, we are not going to act any other way!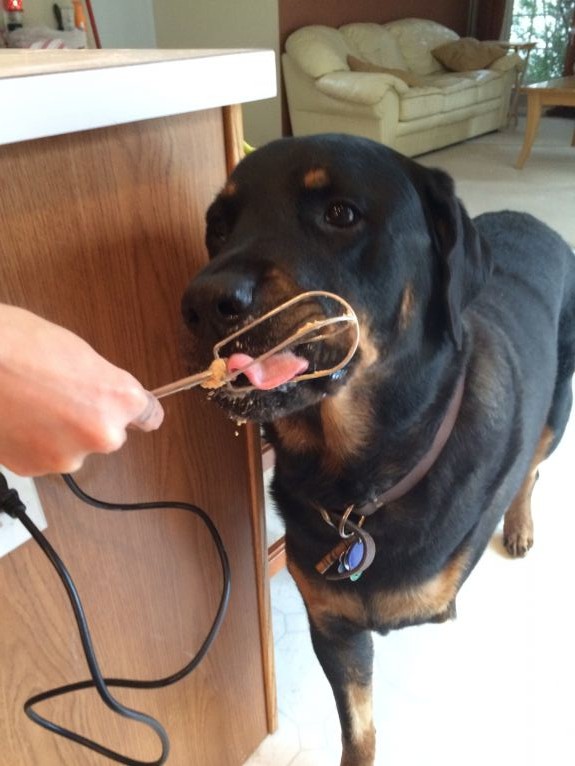 We go about our day everyday just as we used to, with the exception that we have really learned to slow down and enjoy life. It's crazy how much this monster can change how you live your life. Not only does my schedule and life revolve around his medications haha, but I never take for granted a day we have together.
We enjoy daily walks and morning snuggles. I have people tell me every day, I can't believe how strong you are, I could never do what you do. But in reality, I don't feel like I'm doing anything different than anyone else in our shoes would do. What else can I do? Giving up and NOT fighting this, isn't an option. And there are dogs that beat the odds every day, so why can't Bentley be one of those??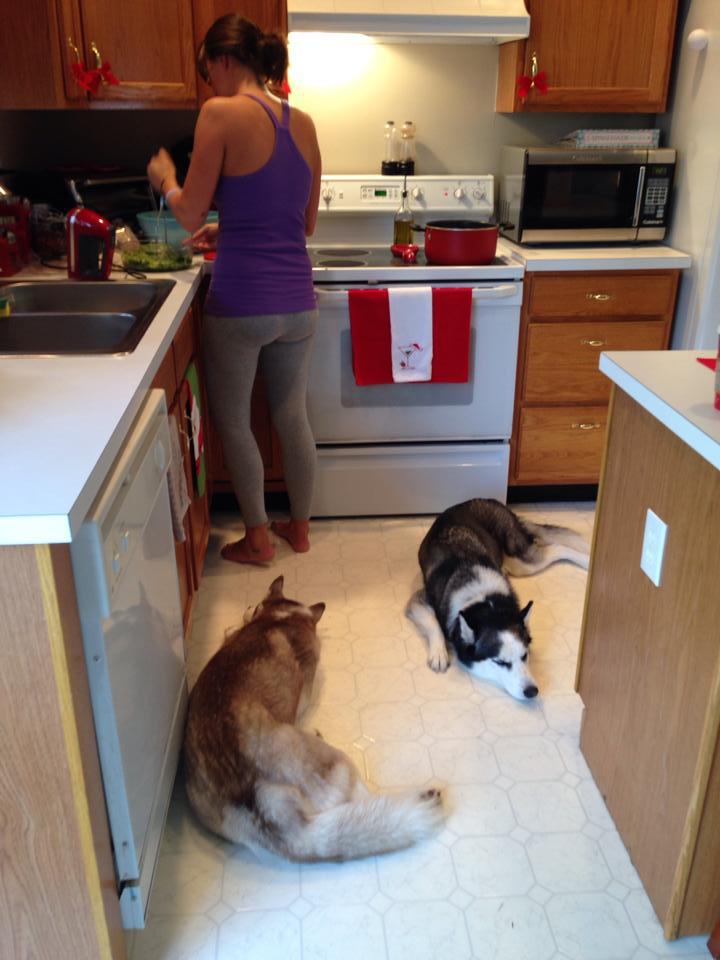 Bentley's Dog Cancer Diet
Upon receiving our diagnosis, the other big puzzle piece that we needed to change was diet! At first I was home cooking, all grain free, and A LOT of proteins. Bentley absolutely LOVED this, and I continued this for about 6 weeks until I couldn't do it any longer. I was spending about 6 hours a week preparing food for him, and it became really frustrating and hard to manage.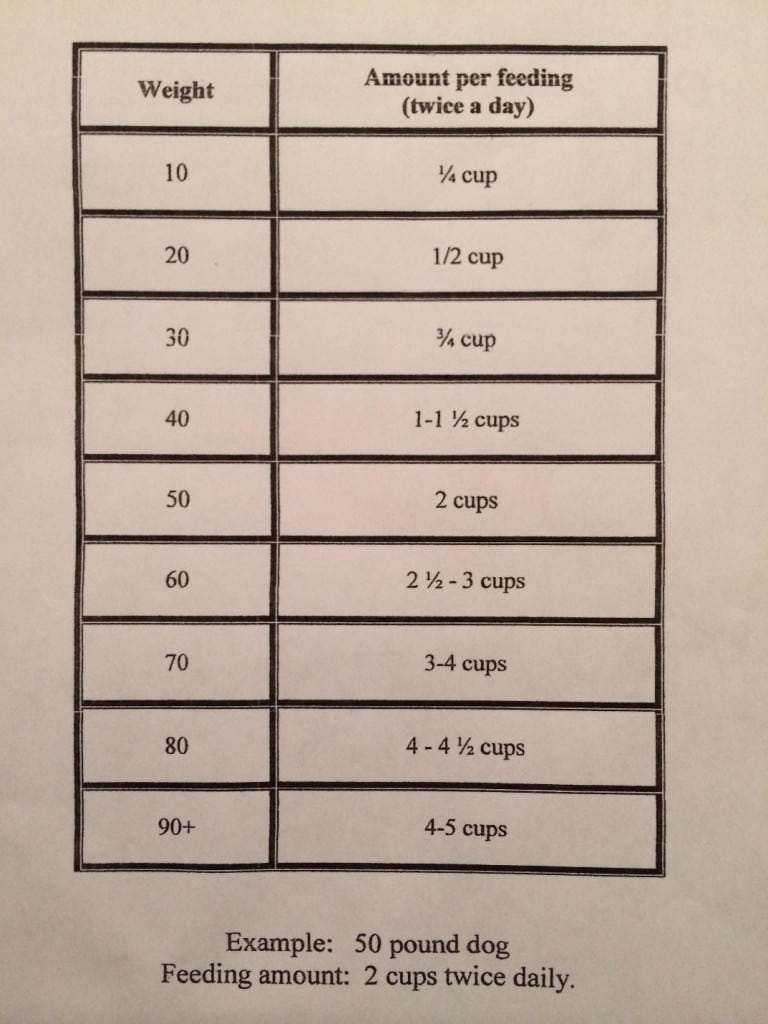 My schedule is very flexible with work, so I tend to work odd hours sometimes. We have a full time dog sitter that stays with Bentley, and there were times that I would have to get up really early in the morning or stay up super late at night to make sure that Bentley had food for the next meal. Then if we were traveling at all, I'd have to be sure to plan days ahead to make sure he'd have enough food while we were gone.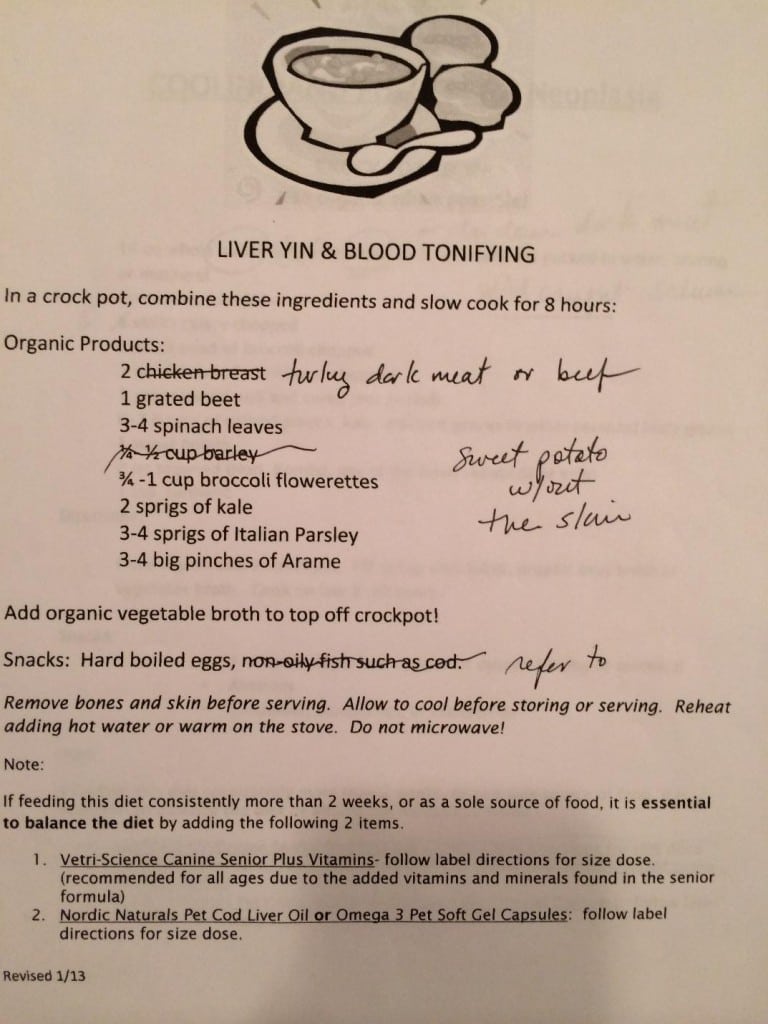 I did get some really good, simple, crock-pot recipes from my holistic vet – but unfortunately with Bentley weighing in at 96 lbs (we slimmed him down a bit after amputation so that he would get around better), the crock pot meal would only last him about a day. Here are the anti-cancer crock pot meals, along with the feeding guide for home cooking.
When you're home cooking, the amount that they need to eat is significantly more than when they eat kibble (because it tends to be more calorically dense). Remember, if you're going to do home cooking for your baby – always use ORGANIC EVERYTHING (you want to avoid any chemicals possible), and do not cook meats above 212 degrees (to avoid carcinogens being produced).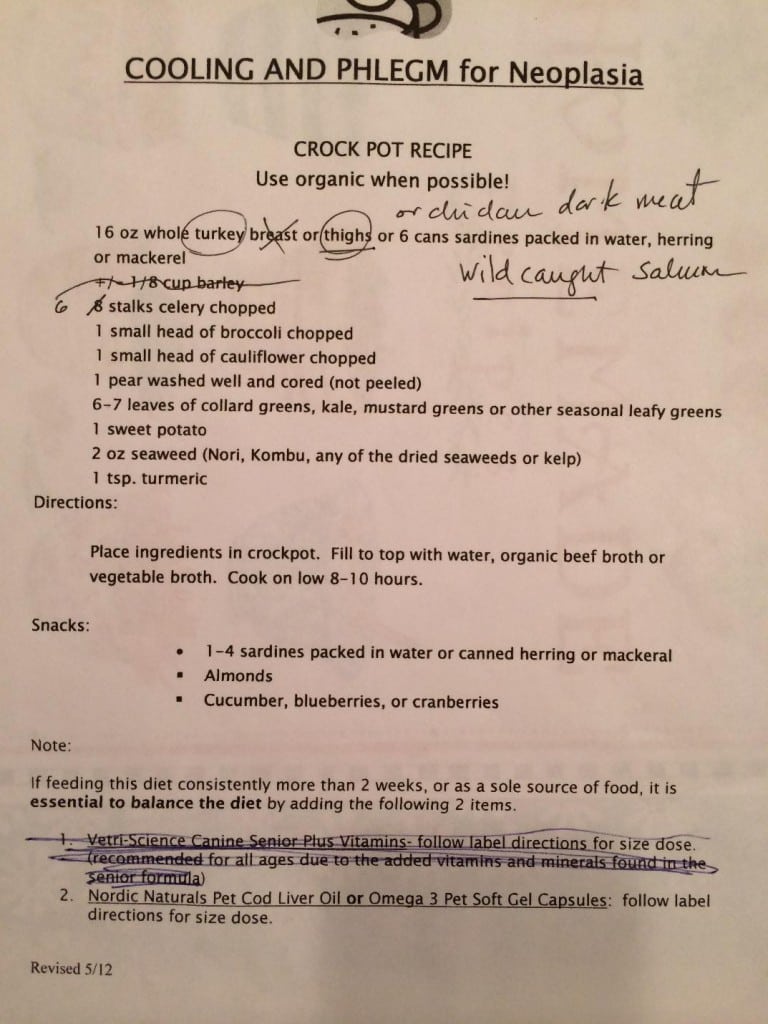 Once I decided that I could no longer home cook for him as his main source of nutrition, I began my hunt for a very high quality kibble that was grain free, packed with proteins and fish oil, and that was NOT heated when processed. I did find Orijen 6-Fish Grain-Free that I found to be an excellent alternative to home cooking, and the best part is that Bentley LOVES it.
I do still cook for Bentley occasionally on the weekends when I have time, just to give him a special treat! The Orijen Six Fish runs about $85 a bag, which lasts us about 5-6 weeks. Because the Orijen is PACKED with good lean protein (fish), the amount that he has to eat is about a 1/3 of what he would have to eat if using any other typical dry dog food.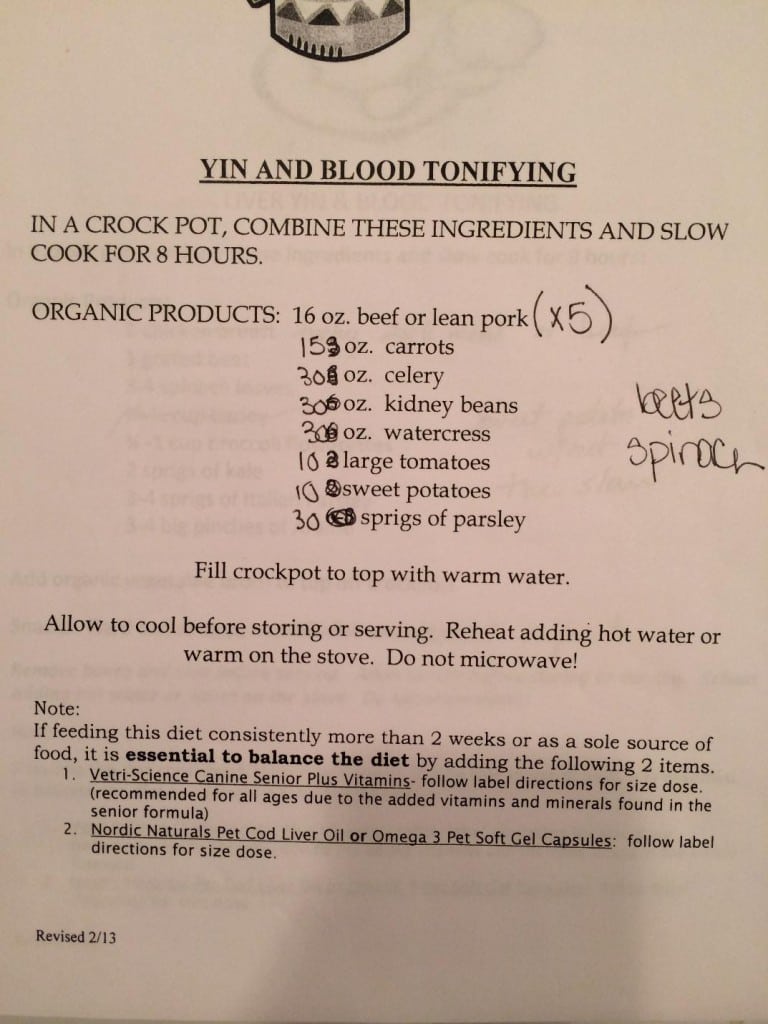 Aside from food change, the other side to this coin is adding supplements to help boost his immune system and assist the Chemotherapy in killing cancer cells. This is where things can get very overwhelming and stressful. There are SO many different theories out there about what supplement therapies work and what don't.
Bentley's Supplements
Even from vet to vet, some will swear by a supplement, and others will say it has only negative effects. This is where you have to become your own scientist, experimenter, researcher, doctor, vet, mother, etc. You have to lead this fight, and only you know what is best for your baby! I relied a lot on knowledge and support from two Yahoo groups that we belong to: Bone Cancer Dogs, and Artemisinin and Cancer. The people in these groups have SO much knowledge about all of the trials that are going on, current 'up and coming' therapies, and experience with most of them as well.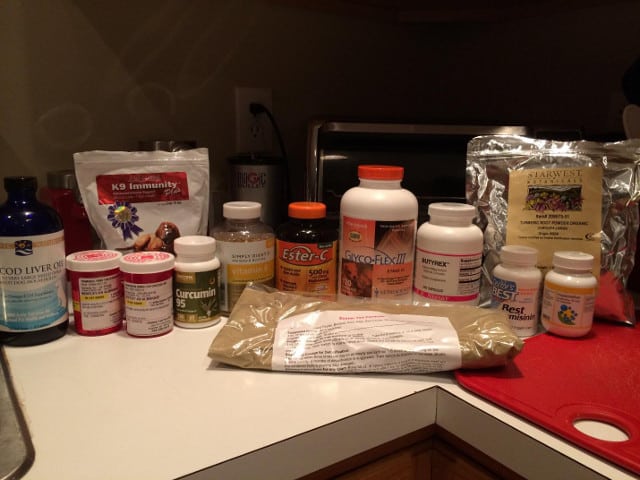 It took me a little bit to get Bentley's protocol in order, and to be honest – I'm still changing it weekly. You really have to listen to them and see how they handle everything, especially as you're introducing new supplements it's best to take it slow!
Here are the supplements and medications Bentley is currently on and what they do:
Vetri-Science Glyco-Flex III: supports joint health and helps with range of motion (Bentley was diagnoses with severe hip and knee dysplasia in both rear legs at 6 months old)
Tramadol and Gabapentin: given for hip and joint pain
Nordic Naturals Cod Liver Oil: promotes tumor shrinkage
K9 Immunity Plus: Immune system booster
Ester-C (Vitamin C) and Vitamin E: given daily to help flush out dead cancer cells
Tumeric and Curcumin: given in the morning as an anti-inflammatory, and also at night after Arte combo to increase efficacy of Arte
Artemisinin, Artememther, and Butyrex: given as an anti-cancer supplement believed to attack cancer cells
We have also purchased Coconut Oil which I will be adding next week, and Essiac Tea which we will begin once Bentley is finished with Chemotherapy.
Here is Bentley's actual protocol and timing breakdown:
BREAKFAST (8 AM):
1 ¼ cups Orijen Six Fish dog food (fill just under purple line in cup)
(2) Glyco-Flex III Tablets (cut up into tiny pieces)
(2) tsp. of Nordic Naturals Cod Liver Oil (10 mls)
(3) K9 Immunity Plus Chews
(1) Ester-C Capsule 500mg (open capsule and dump directly into food)
(1) Vitamin E Capsule (400 i.u.)
(1) Gabapentin (300mg)
(2) Tramadol (100mg total)
(1) Curcumin 95 Capsule (500mg total)
¼ tsp. of Tumeric Powder (in labeled bottle)
*Mix Ester-C & Glycoflex in with food and stir in Fish Oil.
Put Tramadol/Gabapentin, Curcumin, & Vitamin E into one chunk of
cream cheese & Turmeric in another – then put chunks on floor in front of him*
1 ¼ cups Orijen Six Fish dog food (fill just under purple line in cup)
*After dinner he needs to stay very active for 2-3 hours, playing with his toys or playing with you outside are his two favorite things*
8 PM:
(1) Gabapentin (300mg)
(2) Tramadol (100mg total)
*Put into chunk of cream cheese, and set in front of him on floor*
9 PM:
*HAS TO BE GIVEN AT LEAST 4 HOURS AFTER FOOD AND AN HOUR AFTER PAIN MEDS!*
(4) Artemisinin Capsules (400mg total)
(5) Butyrex Capsules (3000mg total)
(Put 3-4 pills together in chunks of cream cheese and place on floor in front of him)
10 PM:
*HAS TO BE EXACTLY AN HOUR AFTER LAST MEDICATIONS!*
(2) Curcumin 95 Capsules (1000mg total)
½ tsp. of Tumeric Powder (in labeled bottle)
(open Curcumin capsules each into their own chunk of cream cheese and Turmeric in another, then place in front of him on floor)
Whew, seeing all of this written out makes my head spin! Noone ever said fighting cancer would be easy, but I know he's worth it!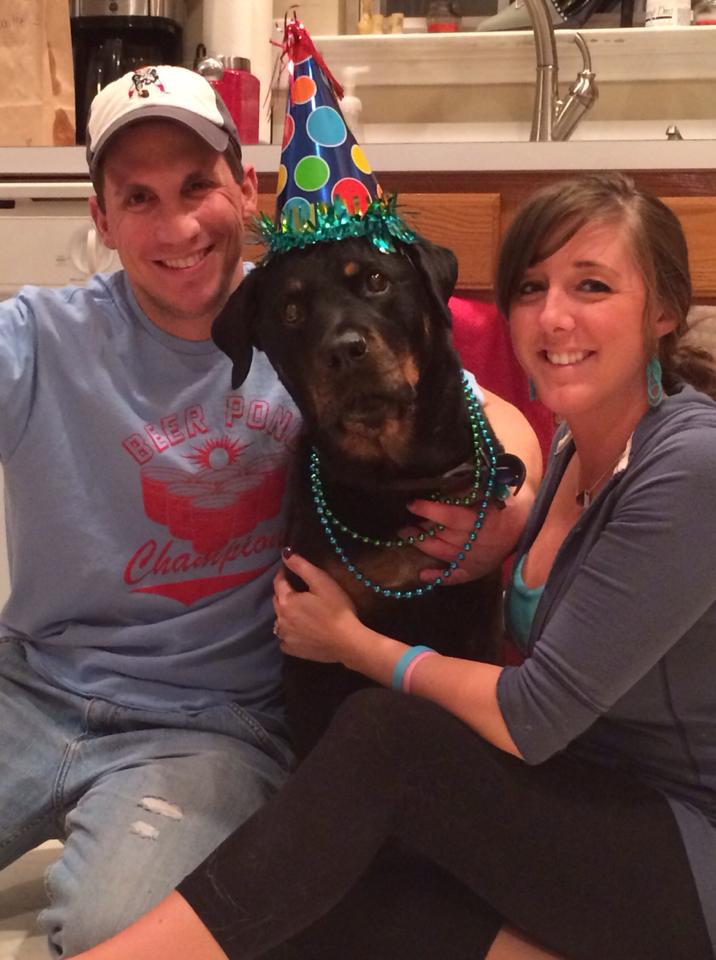 We know that the odds are not in our favor, but we also know that we have no reason not to fight! We are going to continue to fight until our sweet boy says that he's had enough! I encourage everyone facing this battle, to fight it from every angle – and of course love, snuggles, and kisses are great medicine!
As we always say at the start of every new day,
"You have to fight through some really tough days, to live the best days of your life..so never stop fighting!"
Healing hugs from Kate and Sloppy Rotty Kisses from Bentley
Recommended Reading:
Tripawds Downloads Blog: Dr. Dressler's Free Dog Cancer Diet Guide
Tripawds Nutrition Blog: What's All this Talk About Artemisinin?
Best Diet Tips in The Tripawds Nutrition Blog