The following guest blog post was submitted by Allison Martin, mom to Tripawd Boomer and Quadpawd Amy, pictured here.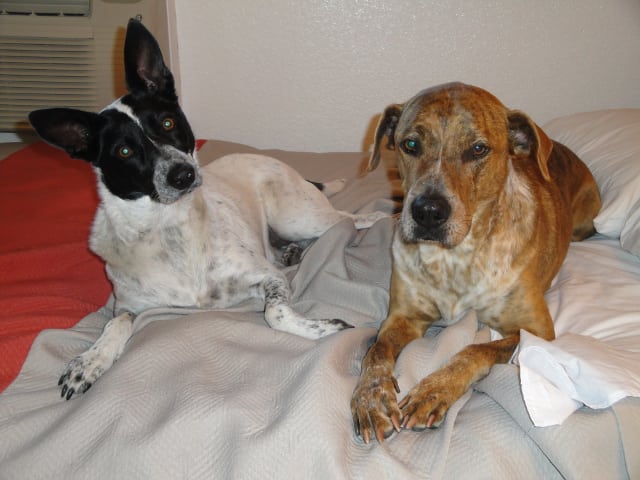 If you have an area of expertise you'd like to share with the Tripawds community, contact us today!
Grain-free vs. Low Carb: Understanding the Differences in Dry Food
By Allison Martin, Boomer and Amy's Mom
Did you know not all grain-free foods are low carb? More and more research is accumulating each year to suggest that a low or no carb diet can significantly boost survival rates for both pets and people fighting cancer. Many people find that their cancer warriors do best on a raw diet but some people don't have the time, money, or stomach to feed raw and vets are usually hesitant to switch dogs to raw during chemo.

Pet parents often opt for a grain-free dry food to give their pets an edge over cancer when raw isn't an option. However, many people make the mistake of thinking that because a food says "grain-free" on the bag, it is therefore low carb. This isn't always the case, for example, Blue Buffalo's Freedom grain-free line is over 50% carb and Nature's Logic, which contains millet (a grain), is about 36% carb.
No study has ever shown that dogs or cats need any carbs in their diet, but most dry dog and cat foods consist of 30-60% carbohydrates. Why? In dry food, some kind of starch has always been necessary, it is what holds the kibble together. Without it, any traditional kibble would turn into a giant bag of crumbs.
Wysong has a line of food, Epigen, that is actually starch free. They have figured out a way to create a kibble without using a starchy binder and instead use plant based proteins to help keep the food from crumbling. At about 11% carb, it is one of the lowest carb dry foods out there – and it's not even grain-free!
Since carbs are not considered an essential nutrient for dogs and cats, companies don't have to put the carb count on the label – a handful of them do, but they are few and far between. Our friends over at Dogfoodadvisor.com have helped us out a lot by calculating the estimated level of carbs as part of their review. It is a simple calculation but I won't go into it here.
Check out the explanation at http://www.dogfoodadvisor.com/choosing-dog-food/dog-food-carbohydrate-content/. This calculation can be used on cat food as well. As of right now, I know of no site for cat food that comes close to the depth and breadth of Dogfoodadvisor.com, so you'll have to do a bit more of the math yourself if you are looking for a low carb kitty option.
The lowest carb line of grain-free dry foods out there for both dogs and cats is EVO by Natura. Depending on flavor, the dog food is 12-20% carb and the cat food is 7-14% carb using dry-matter analysis. (Natura did go through a large recall last year for a higher-than-acceptable salmonella test. As a result, they have made significant modifications to their plant and production practices – check out www.gettoknownatura.com for more on what happened and what was done to fix it if you are concerned.) EVO is also an exceptionally calorie dense food with a very high meat content, so if you have a picky eater or someone who is not feeling great and not eating well, a food like this can help get more calories into them in smaller quantities of food.
Few foods out there come close to EVO and Wysong, but some of my other lower-carb dry favorites are Earthborn Holistic Primitive Natural (28% dog, 20% cat), Orijen (30%, 22%), and Nature's Variety Instinct RAW Boost (31%, 25%).
Investigate what is available in your local pet supply stores (not the chains) because they will have regional options that are far superior to many of the national brands – just because you've never heard of it before doesn't mean it is an inferior food, in fact in my experience, the ones you haven't heard of are often some of the best. And don't hesitate to go investigate their selection and do some independent research before you buy.
There is also the world of freeze-dried, dehydrated, frozen raw, and canned which are by and large going to be lower carb than most dry foods, but we'll discuss that a different day.
A little about me and my pack: I work at a family owned pet supplies store that prides itself on high-quality products and knowledgeable staff. I am owned by two dogs, both of whom adopted me at the sanctuary where I used to work. Amy is probably a McNab and Boomer is probably a boxer mix. In January 2013, Boomer developed a limp and after many months of wait-and-see, supplements, and tests he was finally diagnosed in July 2013 with disseminated Valley Fever, a rare fungal infection, in his right hock. He became a tripawd on September 13, 2013 and is now back to his old self.