Tripawds bodies work overtime to compensate for their missing limb and as a result, extra loads are placed on their joints.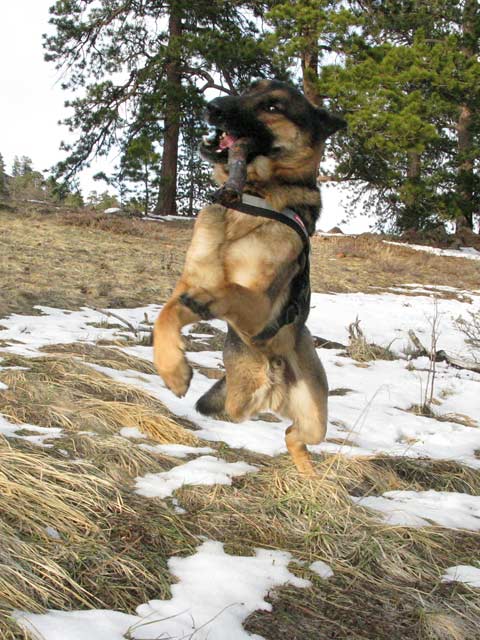 Over time Tripawds who are lucky enough to live long lives on three legs will typically develop aches and joint pain directly related to their unique gait and movements.
For dogs battling conditions like hip displaysia, the effects are even more debilitating.
When pain and other related joint pain symptoms arise, that's when its time to consider a supplement like Natural Stride for Dogs Hip and Joint Supplement.
Natural Stride Helps Tripawd Wyatt
Tripawds Spokesdog Wyatt Ray shows mild symptoms of his developing hip displaysia condition. Although he is in great shape thanks to ongoing rehabilitation therapy exercises and games, occasionally he plays too hard and the results are a pronounced limp and slouchy gait.
Recently we had the opportunity to test a free sample of Natural Stride for Dogs Hip and Joint Supplement. This liver-flavored powder is made with a joint formulation that actually repairs the joints and helps a dog feel good, instead of just masking the cause with pain killers. Its active ingredient, cetyl myristoleate, has multiple biological properties, including as an anti-inflammatory and a pain reliever, as well as being an immune system modulator. Other ingredients include:
Glucosamine HCL: a natural compound that is found in healthy cartilage. Glucosamine is commonly used in patients with osteoarthritis, and may allow for reduced doses of non-steroidal anti-inflammatory agents. It is primarily derived from shellfish..
N-Acetyl Glucosamine: one of the eight essential sugars needed for optimal health and functioning in the human body, also promotes communication between the cells. Shown to decrease pain and inflammation, increase range of motion in osteoarthritis patients, and help repair cartilage.
MSM: Provides sulfur, a vital building block of joints, cartilage, skin, hair and nails, and methyl groups, which support many vital biochemical processes in the body, including energy production.
Vitamin C (ascorbic Acid): A powerful antioxidant, fighting molecules, which trigger rheumatoid inflammation. Plays a role in fighting infection and may work to control inflammation.
Hyaluronic Acid (HA): The primary component of the Synovial fluid found in the joints. HA has been shown to be effective in the treatment of different types of arthritis such as osteoarthritis and rheumatoid arthritis. Glucosamine sulfate is often combined with hyaluronic acid to create a complete joint support formula.
Omega 3: Omega-3 fatty acids are considered essential fatty acids. Research shows that omega-3 fatty acids reduce inflammation and may help lower risk of chronic diseases such as heart disease, cancer, and arthritis (osteoarthritis, Rheumatoid arthritis, and lupus).
Yucca: According to folk medicine, yucca extracts have anti-arthritic and anti-inflammatory effects. Yucca is also a rich source of polyphenolics, including resveratrol and a number of other stilbenes (yuccaols A, B, C, D and E). These phenolics have anti-inflammatory activity.
Natural Stride has no fillers, preservatives or artificial color or flavors either. What we especially love about it is that it's cost effective; only a small amount is needed, even for an 80 pound dog like Wyatt. Our sample tester bag lasted us about a month.
Wyatt had no problem licking up the supplement when we added it to his food every day. Although he has a very sensitive stomach, he didn't experience any gastrointestinal upset or other side effects, but what he did enjoy was increased energy after physical activity!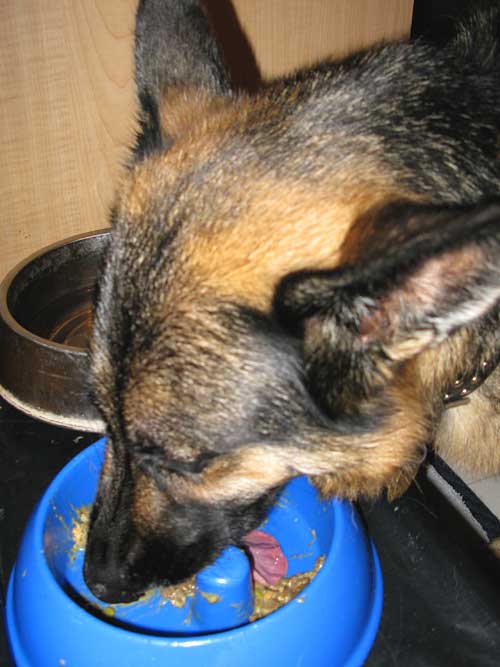 We noticed after just a few weeks that it was making a difference. And after running out of Natural Stride, it was apparent how much it helped with his mobility when he experienced sluggish, tired episodes after prolonged physical activity. You can bet we'll be ordering another month's supply and getting him back on this supplement asap!
Order and Save
If your Tripawd is in need of the highest quality hip and join supplement, you can save on Natural Stride for Dogs with a 20 percent off coupon that's good through March 31, 2014.
Use Coupon Code: TRIPAWDS20Save 20 Pawcent
"Just a head's up folks; this post is sponsored by Natural Solutions for Life on behalf of the BlogPaws Blogger Network. I am being compensated for helping spread the word about Natural Solutions for Life's Natural Stride Supplement, but Tripawds only shares information we feel is relevant to our readers. Diamond Naturals is not responsible for the content of this article.