When Tripawds member Chuey told us that yucca root helps her Tripawd Baden stays limber even with hip diplaysia, we wanted to learn more. Using yucca root for dog arthritis, hip and joint pain is something new to us, so Chuey kindly shared more about yucca in the following guest blog post:
Showing Signs of Hip Dysplasia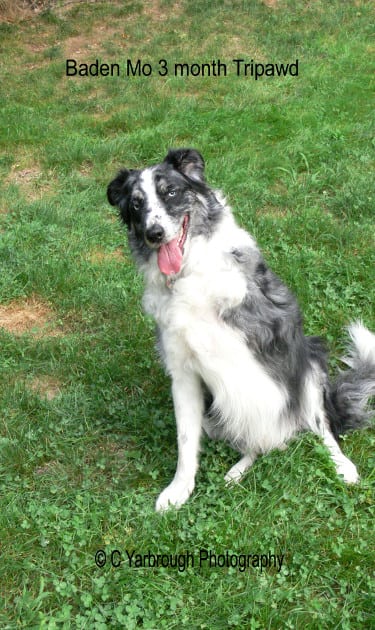 I am a pawrent to a border collie named Baden, who is a 7-years old and a 2-month Tripawd. Being new to owning a dog and what they bring to our lives I was learning on the go.
Shortly after a few visits to the veterinarian I learned that improper breeding can offer the challenge of hip dysplasia. Only few months old, we noticed that Baden ran with his two back legs working in unison as one rather than independently. We affectionately call it the "bunny hop."
He was 2 when I noticed his hips were affecting his ability to play. Getting up from sleeping took time, half way up and his back legs sometimes locked up or gave out.
Discovering Yucca for Anti-Inflammatory Use
With Baden at my side I researched glucosamine & others anti inflammatories. I went to 1-800-petmeds.com. There I saw an inexpensive bottle of holistic concentrate for a host of chronic aliments for dogs, one being hip dysplasia.
I took a chance and ordered Yucca Intensive Holistic Animal Care

2 oz bottle with dosage 1 drop per 10 pounds of body weight, given twice daily.
Yucca for Pets – Corticosteroids are among the most overused medications in veterinary medicine because they're frequently prescribed for a wide range of problems. They are not without side effects with long-term use associated with kidney disease. Yucca is a safe and natural alternative to cortisone-like drugs to alleviate pain, arthritis, joint and bone problems, swelling, skin problems or hot spots, digestive/bowel problems and colic. The steroidal saponins, which are nature's most powerful anti-inflammatory agents have been clinically proven to promote symptom relief similar to steroid medications, with none of the side-effects. Reduces pain without gastric side effects. Yucca also cleanses the liver and kidneys and promotes blood flow and tissue repair. Yucca reduces the "itch" of allergies and may reduce inflammation in brain areas responsible for seizure activity.
When the 1st bottle arrived we began using it that same day. A week later I realized that I hadn't noticed his hip or legs locking or clicking, not even after a long Frisbee session.
To be sure it was the Yucca I stopped adding to his food. Within 24 hrs his hips began "clicking". I went back to Yucca & noticed a difference. After a day of playing outside his hips were still limber.
The most telling sign came at night after he had been running & jumping. He may be tired but his hips wouldn't lock or give him discomfort.
From that day forward he would get Yucca twice a day. This seemed stop the dysplasia.
Some days he would need some "PT" to help "limber" up his hips & back legs. Having him lay on his side I begin to massage the entire hip area. When I get a reaction I will focus on that area until I can bend his legs with ease and no resistance.
In addition using Yucca & massage therapy, keeping his weight as close to "ideal" as possible. Baden is large for a Border Collie, he weighs about 75lbs. That much weight definitely affects his joints. We keep him in his "best shape"  through exercise, give him his daily daily doses of Yucca, massage, play & keep his weight down.
Baden Rebounds from Amputation
In 2012 when Baden was 7, he developed a tumor on his front leg. A biopsy confirmed our fears: it was cancer. Grade 1 Hemangiopericytoma. On May 30, 2012 Baden had his front left leg removed.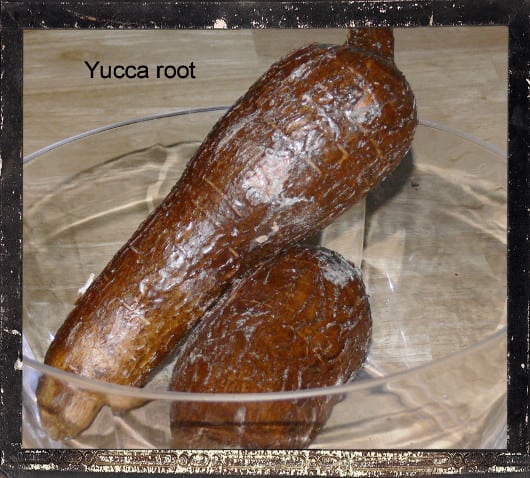 Within four days he was off and running, much to our surprise! Knowing he would be depending on his hips more as a tripawd, I assumed that he needed something a little more for his joints.
At my local grocery store in the produce section I saw a sign for Yucca roots.
I went home and began researching the root and its uses I found it to be an equivalent to the drops
I bought one root, cut it, boiled it and added it to his food. One Yucca root, depending on the size of the dog and root, can last a week. In addition to being effective, it's also very inexpensive at $1.20 per root, whereas a 2-ounce anti-Inflammatory bottle can cost $15.29.
As you can see I believe the use of Yucca, in any form, is extremely beneficial to those that have joint issues. I believe that Baden's recovery would not have gone so smoothly had we not found Yucca. It's allowed him to depend on joints while recovering.
Recommended Reading
Tripawds Nutrition Blog: Synflex Liquid Glucosamine for Dogs (supplement with Yucca)
VetInfo: Choosing a Natural Anti-Inflammatory in Dogs
Dog Aware: Arthritis in Dogs
AltMD: Yucca
Cesar's Way: Dog Nutrition A to Z
Please be aware that we are not veterinarians. The information presented here is not meant to be construed as medical advice or guidance, nor should it be substituted for professional veterinary assistance. Always discuss any remedies and treatments you wish to pursue with your veterinarian. 
Tripawds is a user-supported community; all purchases made here help us continue providing resources and support to our Tripawd families. Thanks for shopping at Tripawds!