Nearly one year ago, Max's spindle cell sarcoma battle started. Despite chemotherapy treatments, by September a chest x-ray revealed lung metastasis. Doctors told his mom to take him home, there was nothing more they could do.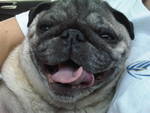 But Max's mom Lisa knew it wasn't his time. She turned to Tripawds Discussion Forums, then reached for the Dog Cancer Survival Guide.
In her latest blog post, she says:
"I could not accept this diagnosis, there must be something else. Well, I discovered the Dog Cancer Diet by Dr Dressler and I started immediately cooking for him. Then I came here and started seeing something called Palladia. Ok, I researched this as well and then I called for a second opinion.  I also purchased Apocaps and started them right away. And I reached out to my local holistic pet man and got everything recommended for a pup with a terminal diagnosis. NO STONE UNTURNED."
Seven months later after following Dr. Dressler's home cooking recommendations and beginning Palladia treatments . . . Max is still going strong! In May he will celebrate his one year ampuversary. Lisa says:
"The quality of Max's life has improved greatly and I cannot ask for more than that . . . And here we are almost the end of April and Max is just awesome!  I don't know what specifically is working, but whatever it is I wouldn't change a thing! "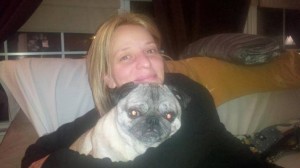 Dr. Dressler's Survival Guide is now included in his comprehensive
DOG CANCER KIT
Turn Over Every Stone
When it comes to dog cancer, there are no guarantees no matter how much money you spend to fight it or what advice you follow. But as Dr. Dressler suggests in the Dog Cancer Survival Guide (included in his all-in-one Dr. Dressler's Dog Cancer Kit), there are plenty of things you can do, like home cooking, that will give your dog the best chance at living longer and healthier with cancer.
Some of the actions you can take are scientifically-proven, like Palladia, while others are anecdotal-based suggestions to utilize anti-cancer foods like curcumin. But when you learn how to combine them using Dressler's "full spectrum approach," you have a good chance of beating the odds like Max!
No matter what happens, you will have confidence knowing that you left no stone unturned in your Tripawd's cancer journey.
The Dog Cancer Survival Guide: Now in Dr. Dressler's All-in-One Dog Cancer Kit
Dr. Dressler's Dog Cancer Kit includes everything you need when faced with a dog cancer diagnosis:
The Dog Cancer Survival Guide ebook Instant Download ($24.95 Value)
The Dog Cancer Survival Guide paperback book with FREE Delivery to your door in the United States ($34.95 Value)
The Dog Cancer Coping Guide Audiobook MP3 Instant Download ($19.95 Value)
One LIVE Webinar with Dr. Dressler – Ask questions about your dog. Attend live and/or listen to recording ($27.00 Value)
12 months of recordings from the last year of "Ask the Dog Cancer Vet" Webinars with Dr. Dressler ($195.00 Value)
$30 Instant Cash Coupon good off your first purchase of Apocaps® at Amazon.com ($30.00 Value)
Total Value: $331.85
Your Price: (Regular Price: $147) Now: $97
Thank you for allowing us to present this information to you.
Proceeds help keep the Tripawds community online.
Recommended Reading:
Max's Journey: Kicking Butt and Taking Palladia
Dr. Dressler's Free Dog Cancer Diet e-Book