How do you prevent heartworms in your Tripawd? Are you sticking to conventional treatment such as Heartgard, or did you go the holistic route and start using a natural heartworm preventative like black walnut and nosodes?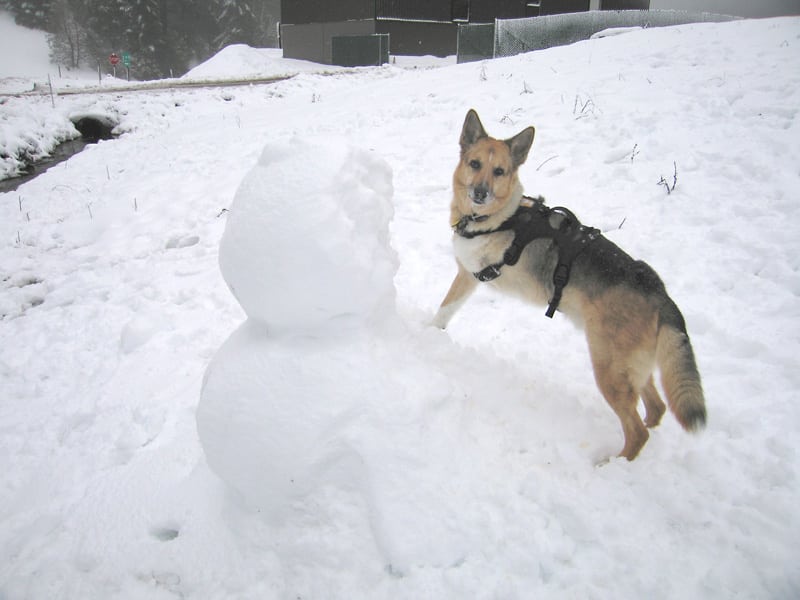 Why are we talking about heartworm in the dead of winter? Because this blog post by Dr. Jennifer Coates of the Fully Vetted Pet Blog reminded us that year-round heartworm prevention is a must, even in December.
If you're traveling with your Tripawd to see family this holiday season, remember that dogs can get bit by an infected mosquito during winter if conditions are right. With the climate being so wacky these days, a quick rise in temperature can create the right environment for a mosquito hatching inbetween snowstorms!
Conventional Heartworm Prevention: What's Great, What's Not
Conventional heartworm preventatives such as Heartguard are easily administered once a month. They are considered so effective that the manufacturers guarantee your dog won't get heartworm if you follow the dosage instructions.
Some studies have shown that an initial dose is effective beyond 30 days, but if you stretch your dosage schedule out and your dog becomes infected, you've voided the manufacturer's guarantee against infection and you will not be reimbursed for the heartworm treatment costs, which can be upwards of $1,000. Saving a few bucks to stretch out your prescription just doesn't seem worth it when you look at it that way!
Standard heartworm preventatives do have some ingredients that many people consider toxic. One of them is Ivermectin the active ingredient in conventional drugs that prevents heartworm infestation. While some breeds such as Shelties and Border Collies are genetically predisposed to suffering side effects from Ivermectin, most dogs are not overly sensitive to it. An easy test can tell whether your dog is sensitive to this ingredient.
If you choose a heartworm medication that features other benefits, such as flea prevention, keep in mind that you are increasing the amount of toxins introduced into your dog's body. If your dog is fighting cancer and already has a compromised immune system, you may want to use something else. Since heartworm infection is more damaging than a flea infestation, it's advisable to continue heartworm prevention but consider other natural methods of flea and tick prevention instead, such as switching to a home-cooked diet.
Holistic Heartworm Prevention Options
If you choose to go the holistic route, popular options include homeopathic nosodes and a liquid tincture of black walnut. Nosodes help the body build defenses against heartworm infection. Black walnut also does this, in addition to infusing the bloodstream with a scent that repels mosquitoes.

Depending on how prevalent heartworm infection is where you live, holistic heartworm prevention may be an option for your pup, but there are a LOT of downsides.
First, you'll have to be extra vigilant not only about administering this remedy but also about applying repellent to your dog whenever you go outside. You'll need to do everything you can to prevent mosquito infestations around your yard. You'll also see the vet more often since you should test your dog's blood every six months to monitor for heartworm infection.
What Do You Do About Heartworm Prevention?
M
any Tripawd pawrents go back and forth between using an all-natural, holistic approach to canine health and sticking to standard conventional medicine. Heartworm prevention is just one example of the decisions we have to make for our pups, but as long as this disease is even on your radar, you're a step ahead of the game!
Here are a few discussions we've had about heartworm prevention. Add your input in the comments section below, we would love to hear more about what you do to keep these nasty pests away.
Eating Healthy: Heartworm and Lyme Disease Prevention
Eating Healthy: Heartworm Medicine, Which One Do You Give?
Anything Goes: Fleas, Heartworms and Parasites, Oh My!
Recommended Reading
Dogs Naturally Magazine: Heartworms
Fully Vetted: Prevent Heartworms, Even in Winter
American Heartworm Society: Guidelines for Heartworm Infection in Dogs
Natural Rearing: Heartworms
Natural Vet for Pets: Homeopathic Treatment for Fleas, Ticks and Heartworm