Enjoy a fresh and healthy Hoppy Holidays toast with your Tripawd.
While sipping Egg Nog around the fire, make your three legged friend some Doggnog – a safe and tasty twist on the classic Eggnog – for dogs! It's a rejuvenating refreshment after a day of playing in the snow, or a special treat anytime of day for that extra special dog.
Dognog Recipe (Egg Nog For Dogs)
1 container plain low fat, organic yogurt
1 jar of organic baby food* (seasonal veggies and meat is a favorite)
1 free range egg
1 1/2 cups filtered water
Blend all ingredients until frothy and serve in stainless steel bowls and garnish with a banana slice. Be sure to refrigerate unused portions.
* Make your own healthy wet food supplement by combining some boiled unseasoned chicken, carrots, green beans, some steamed sweet potatoes or plain pumpkin puree in a food processor and blend until smooth. It's a great added to grain free kibble too!
Get Creative and share your modifications with a comment below. You need not use all the ingredients – the basics base recipe should include fruits, veggies or meats and an egg. Be sure to check what foods are safe for dogs if you decide to vary the recipes.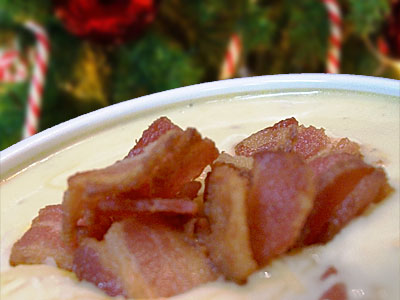 No Nutmeg for Dogs!
NOTE: You may like a dash of Nutmeg atop your egg nog, but it should never be given to your dog. High levels of nutmeg can be quite dangerous for dogs. Symptoms of ingestion include seizures, tremors, central nervous system problems, and possible death.
Tripawds Tasty Tip: Add crumbled bacon or ground flax seed to the top of your Doggnog for that extra special treat. Enjoy!
As with all Holiday Cheer – moderation is key. If your pup is not used to such rich food, begin with smaller portions (about 4 oz.). Nobody wants a warm, squishy present under the tree! 😉
Remember: The smallest amount of alcohol can prove poisonous for dogs too! So hold the brandy from your dog's eggnog and add an extra splash to yours.