Let us give thanks for this great community by stuffing ourselves with turkey, turkey and more turkey!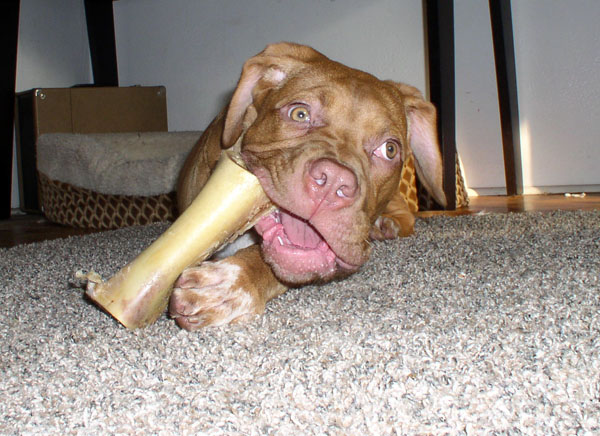 Wondering what to do with the turkey leftovers?
Here are two great Thanksgiving Day treat recipes to stretch them even further!
Bountiful Baked Turkey Treats
2 cups cooked turkey, diced
2 cloves garlic, crushed
4 teaspoons cheddar cheese, grated
1 tablespoon parsley, minced
2 eggs
2 cups flour (whole wheat is ideal but for dogs battling cancer, try rice, garbanzo or oat flour)
2 tablespoons vegetable oil
Preheat oven to 350 degrees. Combine turkey, garlic, cheese, parsley and mix well. Beat the eggs in a bowl and pour over turkey mixture. Add the flour and oil. Stir until thoroughly mixed and all ingredients are coated. Drop into small lumps onto ungreased cookie sheet. Cook for about 20 minutes, until brown and firm. Store in refrigerator.
Healthy, Hoppy Harvest Entree
2 lbs. ground turkey meat
2 eggs
2 cups over-cooked soft brown rice
8 oz. peas
3 chopped celery stalks, diced
1 apple, diced
2 cloves garlic, minced
Preheat oven to 375 degrees. In mixing bowl, combine all ingredients. Mix well by hand. On baking sheet, form into the shape of a large dog bone, press to flatten slightly. Bake at 375 degrees for 45 minutes. Let cool and serve.
Recipe ideas are courtesy of Bullwinkle.com, but have been modified slightly to accommodate the dietary needs of Tripawds battling bone cancer.
Too tired to make homemade treats? Try these healthy, hearty turkey eats!

EVO Wild Cravings Turkey & Chicken Formula Dog Treats (20 oz)

Wellness Pure Rewards All-Natural Delicious Turkey Jerky Bits Dog Treats

Solid Gold Turkey Jerky Dog Treats