Tripawds is a community where we all learn from each other.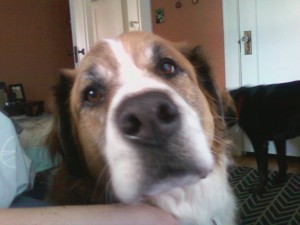 That's why in our Nutrition Blog's About Page, we have a contact form where pawrents can share details about their Tripawd's nutrition regimens.
It doesn't matter whether your Tripawd has cancer or not, we would love to hear about your individual nutrition plans. You can submit your nutrition plan here.
Indi's Nutrition and Treatment Plan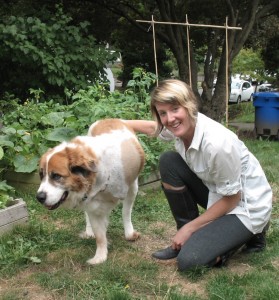 Tripawd Indi is a Saint Bernard girl born on April 1, 2002. She lives in Portland, Oregon, and was diagnosed with osteosarcoma in August.
Indi's Mom, Raina, shares how she's fighting osteosarcoma through nutrition and diet.
Cancer diagnosis and date: Osteosarcoma, August 19, 2010
Amputation of front left leg: August 31, 2010
Current prognosis: Clear margins and clear lymphnode. No cancer found.
Diet: I make "Mom's Home Made Food" for Indi. Into the Cuisinart goes:
Greens, broccoli, carrots, kidney beans, sometimes cauliflower.
Add that to raw ground beef or ground chicken with bone (from the natural pet store).
A dollop of yogurt
NaturVet ArthriSoothe-Gold (liquid arthritis support)
Any other goodies in the fridge that day like eggs, buttermilk, salmon skin.