There is a lot of discussion in the forums about Power Mushrooms from Health Concerns as a valuable all natural immune boosting supplement for dogs with cancer.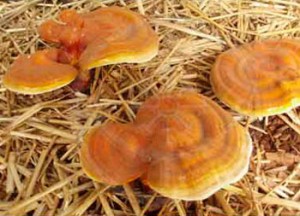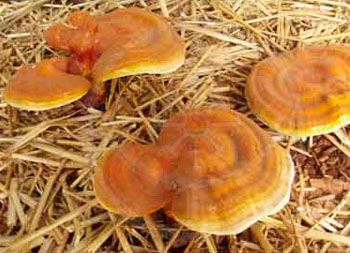 The primary ingredient in Power Mushrooms is the Ganoderma (Reishi) Herbal Formula that combines four of the most commonly used mushrooms in Chinese herbal medicine. Two of these, Ganoderma and Tremella, help strengthen and stabilize the organ systems of your pet's body. The other two, Poria and Polyporus, assist the digestion and assimilation of the other mushrooms. The effect of this herbal combination is overall energy stabilization and resistance to stress and illness. The all natural Power Mushrooms supplement is ideal for immune system support, cancer care, and geriatric animals.
Therapeutic Actions:
Enhance immune functions and boost energy
Contains herbs that may have anti-tumor effect according to Chinese and Japanese research
Useful for autoimmune disorders
Can be used as an adjunct to chemotherapy and radiation treatment
Dosage for Dogs:
2-3 times/day based on intensity of disease and vitality of animal
Small (<25 lb) = 1/2 – 1 Tab
Medium (25-50 lb) = 1-2 Tabs
Large (>50 lb) = 2-3 Tabs
Health Concerns says their Power Mushrooms blend enhances immune system functionality. According to Chinese and Japanese research it contains herbs that may have anti-tumor effects. Power Mushrooms boosts energy and is useful for autoimmune disorders. This supplements can be used as an adjunct to chemo and radiotherapy.
"Tazzie was starting to have mobility problems around 8-10 weeks ago due to his tumor … As soon as I gave him the Power Mushrooms, he had an enormous surge of energy, surefootedness and overall happy demeanor."

Please consult your veterinarian when considering any changes to your dog's treatment plan.
Do you have experience using Power Mushrooms for your pup? Reply with your feedback or write a review for the Tripawds Nutrition Blog!
Please be aware that we are not veterinarians. The information presented here is not meant to be construed as medical advice or guidance, nor should it be substituted for professional veterinary assistance. Always discuss any remedies and treatments you wish to pursue with your veterinarian.