As part of our ongoing discussion about the amazing Dr. Charles Loops, we bring you the story of our friend, Eisen,
Back in September 2007, we heard from Eisen, a Shepherd boy in Colorado who was just diagnosed with bone cancer. He's a big kid, and like all of us who are battling cancer, was given just a short time to live.
But his Mom, Stacy, wouldn't let fear get the best of her. She moved into action, and consulted with Dr. Loops over the phone, to get Eisen on the best cancer-fighting supplements pawsible. Today, Eisen is now eleven years old, and a 28-month cancer survivor!
Fighting Canine Bone Cancer with Homeopathy
Here's more about the supplements that Dr. Loops recommended for Eisen.
Stacy told us, "Eisen was put onto a whole regimen which I have altered over time, mainly due to financial constraints and took out some of the extra "recommended" supplements.
His main medicines are morning and evening dosings of Sulphur, Hekla Lava and Carcinosin-plus 200C solutions (mixed with 2 TBL distilled water), which alternate days with the Carcinosin being every 5th day. He also gets Cell Salts twice a day as part of the routine. For example:
Mon (am & pm)
Cell Salts – wait 15 minutes
Sulphur solution – wait 15 minutes
Feed Meal
Tues-(am & pm)
Cell Salts – wait 15 minutes
Hekla Lava solution-wait 15 minutes
Feed Meal
Wed -(am & pm)
Cell Salts – wait 15 minutes
Sulphur solution- wait 15 minutes
Feed Meal
Thurs- (am & pm)
Cell Salts – wait 15 minutes
Hekla Lava solution-wait 15 minutes
Feed Meal
Fri- (am & pm)
Cell Salts – wait 15 minutes
Carcinosin solution-wait 15 minutes
Feed Meal
Each potency gets increased about every 2-3 months, whenever each bottle is completed."
What Does Eisen Eat?
Stacy also said that Dr. Loops recommend different diets. He discussed with her how to mix raw foods with recommended root & leaf vegetables, while using commercial kibble such as Innova Evo. He also discussed more cancer-fighting supplements Eisen could take, such as EFA/DHA fish oil, Transfer Factor, Maxx GL, Astragulus and more.
She added, "I have taken Eisen off the Maxx GL and the Transfer Factor since they were so expensive on a monthly basis. Eisen's current feeding routine, twice daily, is:
Feed high quality kibble such as Blue Buffalo Wilderness Formula
Add Astragulus,
Cetyl-M Joint Support for his arthritis
Add different combos of dried parsley/spinach/alfalfa, sometimes a little dried kelp, and fish or flax oil,
Mix in peas & carrots or other veggie, some raw meat – chicken livers, gizzards & hearts, beef liver, mackrel,or ground beef." Stacy went on to explain that she doesn't give him raw bones, because of a choking incident he had once that scared her away from a raw bone diet.
Whatever mixture I come up with for that meal, I always as water to it.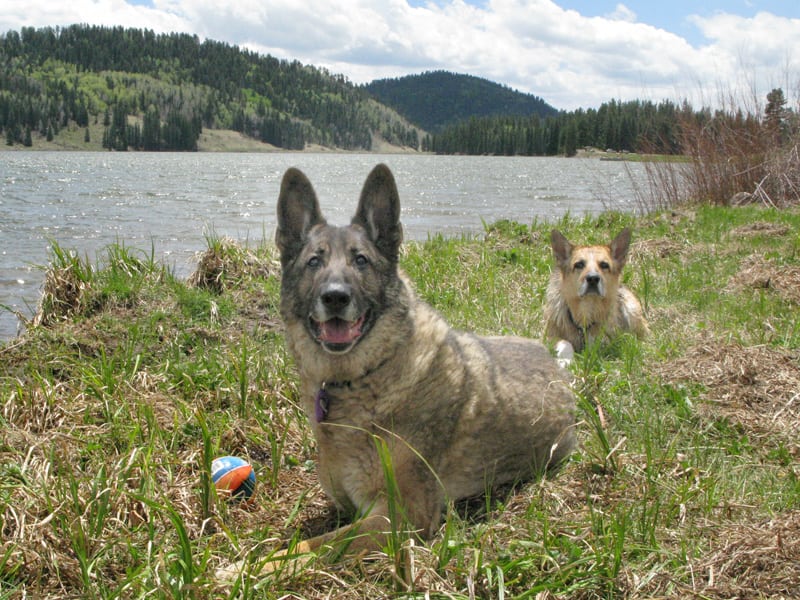 We are so hoppy to know that Eisen is loving life. We'll never forget our June, 2008 play date with him. He is one lucky Tripawd to have such a great Mom caring for him. We hope that perhaps Dr. Loops' recommendations will benefit even more Tripawds out there, so why not give 'em a try?