After writing about the Canine Cancer Kits from Aloha Medicinals, we thought we'd search for other recommended immunity supplements packaged together. We found the following Cancer Support Kits for Dogs available from PetWellbeing.com.
While we have no direct experience with the following supplements, we provide this information for those looking for an easy to administer all natural regimen developed by veterinarians.
What is in the PetWellbeing Cancer Support Kit?
Cancer Support Kits for Dogs from PetWellBeing.com contain all natural ES Clear and Nu-Pet Antioxidant Wafer supplements.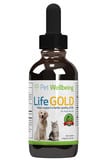 LifeGold (1 bottle, 100mL/3.4oz)
Life Gold – Dog Cancer Support helps manage symptoms of canine cancer This grouping of four herbs has been used for many years and helps maintain your dog's immune system and promotes detoxification. Also helps encourage your dog's natural defenses and eases his discomfort.
Supports the immune system
Supports vital systems of detoxification
Helps to reduce oxidative stress
Scavenges free radicals
Supports antioxidant function
Promotes long-term health
Re-establishs the essence of a healthy, vibrant life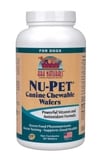 Nu-Pet Antioxidant Wafers (1 jar, 90 chewable wafers)
And why your dog may need an additional supplement.
Nu-Pet Wafers are an excellent companion product for ES Clear. This grouping of grasses and vitamins help to protect against free radicals that can cause cellular damage. The added nutrients also ensure that your dog's diet is supplemented in the time when his body needs it the most.
Ingredients:
Wheat Sprout Complex
Barley Grass Powder
Alfalfa Grass Powder
Vitamins and Minerals: Vitamin A (Beta Carotene), Vitamin C (Ascorbic Acid), Vitamin E (Acetate), Selenium
About PetWellbeing.com
Developed by certified veterinarians, Naturopathic doctors, and a Master Herbalist, all PetWellbeing products are 100% natural and produced in an organic processing facility in Kelowna, British Columbia, Canada. Only the highest quality ingredients are used.
All PetWellbeing products undergo stringent testing by certified veterinarians. In addition to complying with Health Canada's regulations, our products are also registered with the US Food and Drug Administration.